THE DISAPPEARING WALLS ACT

Fewer walls and more multi-living spaces: This is the new mantra of luxury living. Open floor plans not only lend themselves to gathering and entertaining, but to beautiful designs as well. Instead of walls defining spaces, design elements from subtle to dramatic are allowed to standout and interact with one another to distinguish spaces. Varied ceiling heights, beautiful lighting, strategic furniture arrangements, elegant area rugs, engaging wall materials and gorgeous floor designs can all take on the role of adding aesthetic and functional value as they define spaces.
With more design elements working together, these open living spaces offer increased aesthetic value and function while also encouraging togetherness, rather than separation. And in today's digital world, most households could benefit from more human interaction and less time spent with technology.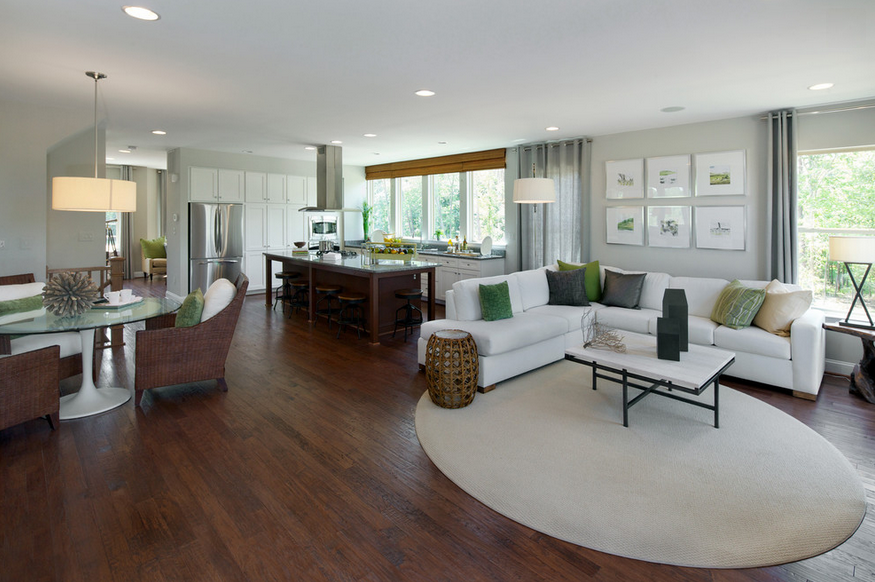 NEW PRODUCTS: TEMPEST IS SWIRLING UP A STORM

It started with one chandelier. After it became a top-seller, we had no choice but to turn it into an entire collection. Now, the Tempest Collection is creating a storm with its swirling bands of sleek steel. Edgy and elegant, this collection is the epitome of urban sophistication.
The Tempest collection of handcrafted light fixtures includes pendants, wall mounts and cover sconces, each boasting the signature asymmetrical steel-banded shade. Each can be ordered with a glass or linen diffuser to create an interesting juxtaposition of hard and soft, stillness and movement, intricacy and simplicity. To play up the industrial aesthetic, Tempest fixtures can also be paired with clear or frosted globes or any vintage filament bulb.
Industrial-chic yet remarkably versatile, these fixtures add distinct urban style to entryways, great rooms, master suites and more. Tell us what you think!
KITCHEN LIGHTING – BEYOND FUNCTION
Spa baths and outdoor spaces can be divine, but the kitchen is the heart of the home. Having evolved past their utilitarian, back-of-the-house origin in the American household, kitchens are now the center of all activity and the anchor of the 21st century space known as the great room.
Before landing their starring role, kitchens were mere workhorses designed purely for function, and aesthetics were a superfluous concept. But now that kitchens are on full display for all who enter the home, aesthetics and functionality are expected to work together simultaneously as top design considerations. Every aspect of the kitchen – from appliances and cabinetry to countertops and flooring – have been reinvented to accommodate the kitchen's new "crown jewel" status in the home.
So when it comes to kitchen lighting, boring, task-oriented pendants just don't cut it anymore! Fixtures are now expected to enhance the kitchen's aesthetic design while also providing additional ambient, task or accent lighting. Thoughtful kitchen design seamlessly incorporates lighting to define work spaces, accentuate architectural or interior details, and connect the kitchen with surrounding spaces including living, dining, office and outdoor areas.
Featured here are several kitchens with Hammerton and Lightspann light fixtures that provide both aesthetic and functional value.