Gemio's New Wearable Technology Geared Towards Dance Music Fans

Today marks the launch of Gemio's crowdfunding campaign on Kickstarter for the first ever wearable LED technology that connects artists and fans at shows and festivals.
With impressive investors and directors including the first VP of Sales at Facebook, Gemiois hoping to spread the love, light and style with new and innovative wearable technology geared towards music fans.
This line of wearable technology uses LED lights, vibrations and special effects to connect friends, introduce you to new like-minded, music lovers and add an exciting interactive element at music events.
Gemio Band's millions of colors and patterns can be controlled by the MyGemio smartphone app and are also reactive to music, movement, touch and even the friends around you and what you are wearing.
The one-size-fits-all bands are customizable via swappable tiles to express personal style via prints, textures and gems. New tiles will be released regularly and limited-edition tiles inspired by your favorite artists and DJs will also be available. Soon after launch, you'll be able to use the MyGemio app to design your very own tiles, too!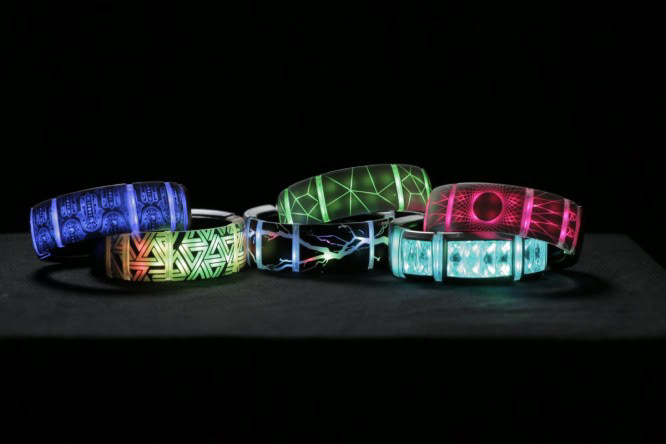 Gemio users can send 'signals' to friends. On the app, you can assign different colors to different friends and define what signals mean, whether one means to meet at the bar and another signals it's time to hit the next stage at the fest.
Gemio will also be launching special channels so artists and events can send entire light signals and effects to entire crowds and communities. Gemio bands will actually let audience members become part of the light show.
"The best experiences in life are the ones where we're in the moment, expressing our true selves and connecting with friends in a real way," explains Michael Bettua, CEO and co-founder of Gemio. "Gemio technology was developed to enhance those experiences by easily adapting to our personal styles, immersing us in the moments we care about (sports, music, causes), and giving us the freedom to stay connected to our friends in those moments without staring at a phone screen."