The Moving Story of FTampa: Finding Hope Despite Overwhelming Loss


As a 13-year-old in Conselheiro Lafaiete, a small city in the state of Minas Gerais, Brazil, Felipe Tampa aka FTampa dreamed of becoming a soccer player. But everything changed the day he was inspired to ask a local Brazilian band a simple question: one that left him with an address written on a piece of paper.
That address led him to his first piano teacher. He then turned in his soccer cleats for a guitar.
Felipe never met his father. At age 6, his mother died in a motor accident. He went to live with his grandparents, but by the time he was 15 his grandfather died, and just two years later, his grandmother followed.
He was 17 and all alone. With the little bit of money his grandparents left him, he bought a mattress, a laptop and moved to a new city. He went from house to house, living with different people. He went to school during the day and studied music at night. He sought out local bands, and eventually was given a shot. It was good money and it gave Felipe a chance to practice and perform. Between practices and gigs playing birthdays, weddings and parties, he looked for any freelance job he could, making websites or helping with marketing.
Still just a child himself, Felipe found that playing in traditional Brazilian bands taught him a lot. The rest of the musicians, who were much older, would sit him down, correct him and teach him how to play. "I was just a kid... they helped me a lot."
A lot of people tried to be musicians in Felipe's hometown, but they only tried so hard and Felipe believed it wasn't hard enough. They'd go on to get a job, a wife and a family because this was what was expected.
Just the other day, Felipe received a call from one of his former bandmates. "I'm proud of you because you made it," he said to Felipe.
Watch the video below to hear Felipe's story in his own words, then read on to hear more about his journey.
Jamie: What people in your life have had the greatest impact on you?
Felipe: It was more me but I always had support from family and friends. I was married, and had a lot of support from my ex wife. When you decide to be a musician, not many people trust or believe in you or believe you will make it but when you do… they say "I was always there. I was always saying he was going to make it." But when you are trying know one really cares. I know my family believed it but they always had a concern about it, kind of wanted me to have a real job.
I tried to be a musician five times… I was in a very good job, I was earning a lot of money and then I just quit to try to be a musician. And I failed. I tried again and again and kept failing. It took me a many years. Every time you fail, it's experience. And you learn a lot through experience. When I failed, I saw this as normal. Sometimes I make a track I like and people don't like it. It's normal. Every time I failed, I would say, "Oh, I don't have money to invest in music. I'll have to start a new job, get more money and try again." At the beginning, I was trying to be a musician in bands. Just five years ago, I started listening to electronic. I failed in bands four times. I failed in electronic one time.
Jamie: What made you go into electronic music?
Felipe: It's funny. I have this cousin, and he's a DJ. "Dude, you have to make electronic music," he was always telling me. "I see how much you work for music, and how much you help people. Electronic music is something you can do just by yourself you don't need someone to help you, you don't need a band, just you. You know how to use instruments and work in the studio."
It's not real music, I thought, but once I heard it I was so impressed. It was made just by one or two people. I was even more impressed. I looked up some electronic samples, and that's how I started. That same night. I had a good job at that time. Thanks for my cousin. 
Jamie: How would you describe your 17-year-old self?
Felipe: Lost and desperate. That was the worst moment of my life. At that time, I lost a big part of my family. I was so desperate, that's why I moved. I was feeling so bad and lonely. I remember that I tried to move just to stay away. When I moved I had no friends, no family close to me. I started making new friends and meeting new people and tried to reconnect with the world. I can truly say I lost myself when I was 17. I was a very lonely guy, lived in my own world. I never talk about that. For a long time, my manager told me to tell my story, but now I feel comfortable. But before this year, I was very closed off. I don't want to promote myself using my story. I know how sad my story is. It was very hard. I know sometimes people say, "Oh poor guy." I don't want people to think like that. I want to conquer my things without help. 
Jamie: What challenges do you still face? 
Felipe: The market changes so fast. For me, for example, everyone play my tracks, but it's too hard to be in some big festivals. I play a lot, but it's so hard to be recognized, as an artist. So many marketing guys and ghost producers... it's the wrong thing to do. But you have to face it. You can't run away. That is the market. Sometimes I feel bad. People pay to be in festivals and pay to be in music rankings. This is so sad. When I see that, I say "Whats the real thing here?" To me, it's bad, but i don't judge people that use ghost producers because maybe you don't have skill to be a studio producer but you are an artist. But the clowns just trying to be musicians taking the place of real guys that should be there... in Brazil, there are a lot of those guys.


Jamie: How has music helped you to cope with challenges? 
Felipe: I always tried to put my feelings in music, and this really helped me. For a long time, I was writing music just for myself. I was shy to show people the music I was writing. Music helped me a lot. Every time I was feeling bad, the easiest way for me was to go to the studio and make some music. Even now, it's all about my feelings. 
I think when someone likes your music, it's because they are connected with you. When you listen to a song, usually when you like a song, it's because you feel a connection. I truly think every time people come to me and say, "I love that song"... they got the message.
Jamie: How did you get over your shyness?
Felipe: It took a long time. I just decided, and I saw that the only way to connect people to my music was showing them. Otherwise, I was going to be in the studio locked in the dark forever. I started making some tracks for my band. I showed tracks to my bandmates, and they liked it. That was the first time I showed people music I was writing. When I started electronic, my first tracks were terrible tracks, but I was okay with showing people.
Jamie: What inspires you to make the music that you do?
Felipe: When I'm writing music, it's all about the moment. I'm not locked in a style. I'll never be like "I'm making this." I like to make any type of music. It's all about the moment I'm living. This could be music, this could be a song. I'm just caring about making music and expressing my pain inside my music.
When I made "Kick it hard," it was a festival track and every single producer played it. Everyone was expecting me to make another festival track. I made a track called "Hero." and it's all about my anger. There was this guy in Brazil who was trying to date a girl, and she was trying to date me. He kicked me off a festival lineup because he was jealous. There is a vocal on "Hero" and it goes, "Now you can call me your hero, bitch" because I was so angry.
Jamie: You moved to LA, but then you recently moved back to Brazil. Why did you decide to leave LA?
Felipe: I really missed my family and friends. I will live between LA and Brazil. I want to make some new music. I think, if you are feeling bad, lonely or whatever, it affects your music. I want to be here with family and friends. This is going to help me make all my new stuff.
I liked living in LA, very nice city, very nice people. But it's about myself, it's about me. I have friends in LA, but the real ones I've known since I was a kid, and since I was no one, they are here. It's very hard to bring my family to LA. Being here for everyone is good for me and makes me happy. I never go out. I can't go be surrounded by industry people. I prefer to be home. I just want to make my music. If someone likes it, that's good, that's what I want. I want to make people happy with my music. I don't think you have to be anywhere to make your music. I feel better to create my music here and feel better to be with my family 
Jamie: Do you have plans to do a full-length album? 
Felipe: I have tracks to make an album, but I don't think about it because I prefer to make five tracks and take the best ones and release them. Now, I'm in the process of changing my music. I want to step away and make my own stuff. I come from bands. I'm trying to record my own acoustic guitars, my own pianos, my own drums. I'm trying to make my music more organic instead of just electronic. It could be more pop.
I'm trying to re-find myself. I want to be like the guy I was in bands, spending lot of time in the studio. For a while, I was making tracks to just makes tracks. I love those festival tracks, but I want to create something that needs more work. It needs more feelings. It needs more creative process. I truly believe that finding a very good sound... it's just experimentation and research and more experimentation. That's what I want to do. I'm recording a lot of guitars in my new songs. I'm not thinking of labels or making music for industries or festivals, I'm making music for fun It's going to work because its made by my heart. I'm not worried about having to release things. I'm letting myself make music slow so I can think of every detail.
Jamie: If there was one thing you could tell your younger self now, what would it be?
Felipe: I'm 28 now. Doesn't matter how bad you feel, there is always a different way to go. Usually when people pass through things like that, it's too hard. I saw people who passed through things similar to me and they went the wrong way because its so easy to go the wrong way. I just decided to go the right way and do good things. I truly believe in karma. I prefer to do the right thing. I truly believe you have the choice. If you go the wrong way, do something very bad now, even if you grow, you don't have a base. if you go to the right way, you make a solid base. After a long time, you are going to be there. 
Jamie: What was the most important lesson you've learned in your life?
Felipe: Never give up. Even if it's bad, never give up.
friends.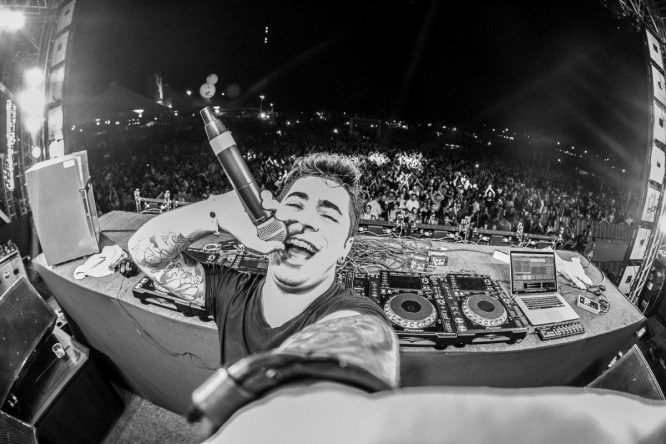 Stream FTampa's latest release below, an official remix of Tritonal's "Blackout" out now via Enhanced Recordings!