This Startup is About to Change Concert Videos Forever
South by Southwest in Austin, TX offers professionals and aspiring entrepreneurs across tech, digital media and music the incredibly rare opportunity to share spaces with industry leaders as they present fascinating and eye-opening panels on consumer trends, innovative business practices and pioneering developments.
While attending the SXSW Interactive conference, I had the chance to hear firsthand from the software lead of Google's Self-Driving Car Project as he differentiated between the hype and reality of autonomous cars. In a room full of venture capitalists and angel investors, I watched three startups pitch their Virtual Reality technologies, including the company that has teamed up with Coachella with plans to transform the live streaming landscape. I even participated in a discussion of how data is impacting the rise of music festivals with the VP of Strategic Partnerships at AC Entertainment (producers ofBonnaroo, Forecastle Festival, etc) and the VP of Insights and Planning at AGE Live (producers of Coachella and owners and operators of 37 venues around the world).

Mitchell Chaiet and his companyConcertCam was selected to present at SXSW 2016 after being named a Top 5 Startup at University of Texas. Here's how ConcertCam works. When a fan takes a video at a show, he or she can log into the app afterwards, select their video and wait roughly 30-seconds as the app instantly overlays the soundboard audio from the show on the exact clip he or she recorded. Matching the video with the professional audio recording simply by syncing up waveforms, ConcertCam aims to do away with shitty-sounding concert videos forever and ensure every piece of fan footage comes with high-quality audio straight from the sound guy of that show.
This means that if you capture a clip of Skrillex dropping a brand new track live, you can pair it with crystal clear audio and have publications like us here at EDM.com or maybe even Skrillex himself share it with their millions of followers online. It's essentially allowing you, the fans and followers, to become on-the-scene music journalists!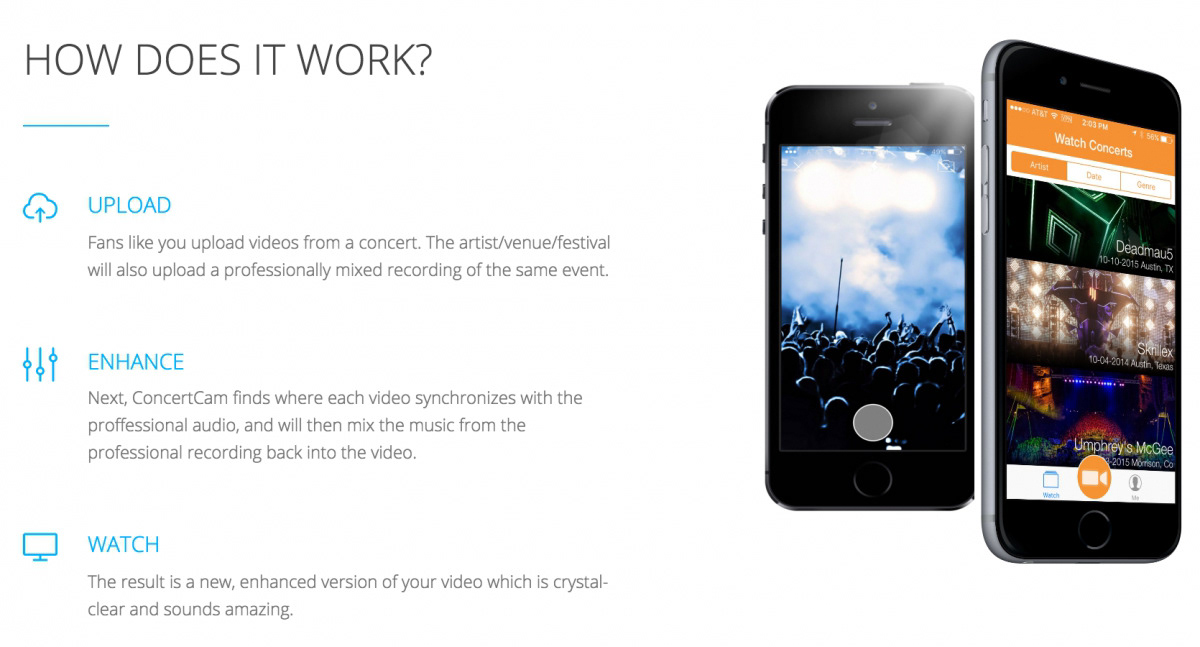 ConcertCam is not yet in the app store, but fans should 
follow ConcertCam
 for updates so you can download it once it his app stores next month (app icon shown right). And for the artists out there reading this... ConcertCam is currently signing up artists as part of their launch program; Apply 
here
 or email them at 
artists@concertcam.io
with code edm2016 for a special EDM.com discount! 
ConcertCam is the culmination of an extensive background in making, performing and teaching music as well as attending shows. Founder Mitch Chaiet fell in love with playing music at an early age, starting with the cello in kindergarten. He then switched to guitar after picking one up at a birthday party in elementary school. Mitch went on to perform many an open-mic nights and play in several bands in middle school and high school before he discovered Ableton, a dream come true for the young musician who'd also been tinkering with and modding speakers and computers for years.
After diving head first into production, Mitch eventually began teaching at the now-defunct Dub Academy in Austin while studying radio, television and film as an undergrad at University of Texas. Currently a sophomore, Mitch was 1 of 14 accepted into the UT Freshman Founders Launchpad Startup Accelerator program and was recently chosen to present at the SXSW 2016 after ConcertCam was selected as a Top 5 Startup.
Oh, did I mention one of his hobbies is building crazy midi controllers?! Check out some of his musical midi creations in the videos below, from his fire-spitting Ruben's Tube playing a dubstep remix of Sandstorm to his midi-controller constructed out of elevator buttons.