In 2014 & 2015, 7-Up made great strides to build a connection and presence in electronic music culture, by teaming up with Tiesto then Martin Garrix for their, "The Only Way is Up" Campaigns. To further expand their footprint and engagement, they partnered with EDM.com whose social imprint spans across a number of platforms including, EDM.com, Facebook, Instagram, Twitter, Google + and a number of other socials; each serving curated content to EDM.com's highly engaged fan base.

CHALLENGES

Prior to stepping foot into the electronic music culture, 7-UP had next to no engagement within the community. Although they are an iconic brand
within many cultures especially the
US; they lacked the engagement and understanding of how to connect with consumers in this rapid growing culture. Unsure where to start with this task at hand, they reached out to EDM.com.
HOW THE PRODUCT HELPED 
EDM.com's team created a unique campaign
that allowed 7-Up to build a connection with loyal music fans. First, they created a catchy hashtag #7X7UP. Given fans are linked with others around the world through the # on multiple social media platforms, this approach truly resonated with fans in the community. EDM.com then teamed up with Electric Family to host exclusive charity bracelet giveaways; which generated fan buzz and additional engagement for the campaign.
Not only did this build a connection with fans, but it linked 7-Up with artist such as DJ Snake, Hardwell, 3LAU, Nicky Romero and Skrillex (all Icons in the electronic music culture), further building the integrity of the brand and connection to their target audience.
EDM.com also sponsored 7-Up live events promoting them in their Newsletter. By advertising through EDM.com and tapping into these unique social media activations to support their message, 7-Up was able to successfully leverage EDM.com's massive online media and social presence.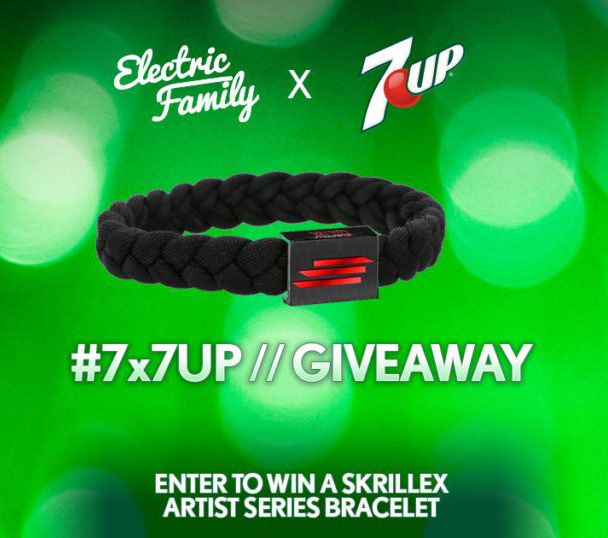 RESULTS, RETURN ON INVESTMENT & FUTURE PLANS
At the conclusion of this campaign, 7-Up was able to grow their footprint in the EDM community. As a result, they were able to connect with a dedicated fan base and build strong artist connections. 
Now when people think of the 7-Up brand they connect the brand with relevant
pop culture, strong characters within the electronic music community and EDM.com; successfully ensuring that the brand is set apart from competitors.